Tag Archives:
Tutorial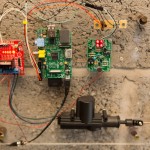 (DISCLAIMER: Not meant as a security solution or a lesson in good dog behavior. It's an experimental proof of concept to play with the application of embedded computing to solve particular use cases)
Sleep deprivation has been driving me mad recently. And it's all down to a new member of the family (kind of), our new dog. She barks at night when she's left out. She barks early in the morning when she's left in. So once I recognized the patterns of her barking, I realized that all I needed was something that would let her out when she needed to go for a pee, usually around 6:30 in the morning. I could do this with a timer switch and a door strike, but where's the fun in that.
There's a very handy feature of the Epson R2880 printer that I only discovered in the last few months, and it's been great when it comes to cleaning the heads before making an important print, and ensuring all of the nozzles are getting a good ink supply. I put this little blog article together because I was using the printer for about a year before I discovered it (I know, it pays to read the manual), and I thought that it might be worth mentioning just in case anyone out there might find it useful also. It's probably available in a good few of the Epson printer range.
The printer head is made up of an array of tiny nozzles, split into one array for each colour. In the R2880, there are 8 colours, each colour having an array of about 180 nozzles. That makes a total of 1440 nozzles in the print head! That's a lot of nozzles, and a lot of chances to get a dodgy print!
Anyway, the auto-check-and-clean function is in the printer dialog screen:
By clicking on the top left icon "Auto Nozzle Check and Cleaning(C)", the printer will start printing out a check grid, and will then read back what it's printed to ensure that all nozzles are printing as expected. The following is the resulting output of the auto clean process. (Click on the image to see a bigger version).
Oh, an it's advisable to insert a good paper for this, such as a glossy paper. It gives better contrast than plain paper, making it easier for the printer to read back the test patterns it's just printed.
So, in the test page above, the printer prints the first 4 colours. Then it reads back the patern. Becuse there's a couple of missing blocks in the Light Black array (right side of area marked Pass 1), it runs a clean cycle. Once that clean cycle is complete, it'll print that pattern again and re-check. If that's ok, it'll then print the second 4 colours (Marked as Pass 2). It then sees that Cyan is missing a few blocks in the pattern, so it runs the cleaning cycle again.  For Pass three, you'll notice that it prints the first 4 colours again, then the second 4 colours. This is because the clean cycle may have affected some nozzles in the 1st 4 colours, to it needs to be sure that these are still working ok. For pass 3, you can see that ALL the Cyan nozzles are now lacking ink. So it cleans again. Finally, on pass 4, everything checks out, and the process completes successfully.
I've found that it may take doing this process twice, but it's usually a lot easier than doing a manual nozzle check and clean repeatedly. Also, I suspect that when it's charging the nozzles, it may only charge the colour that's Missing ink rather than all colours, thereby wasting ink, but that's only a theory.