Page 1 – The plan and some construction shots and info
Page 2 – More Construction
Page 3 – The Circuit, the Code, plus a video of the rig in action
The Circuits
I only needed two GPIO pins, one for driving the DC Motor, and the other for triggering the shutter of the camera. I used pins 17 and 18 (plus the GND pin, of course). Since the DC Motor is 12V, I used a battery pack that takes 8 AA batteries, giving me about 11 volts, which works fine, and it's more portable than an AC power supply. See my previous posts for a portable 5V power solution for the Raspberry Pi. It's basically a DC-DC converter that I salvaged from an iPhone car charger, which converts anything from 7-13 volts input to a nice stable 5 volt output.
There's a couple of (very) simple circuits to build, one for the solenoid, and one for the shutter release of the camera. First, the motor circuit.  The flywheel diode to protect the transistor against the inductive spike from the motor when it keeps going after the pulse has dropped), I don't actually have a diode in my build, but I'm told it's a good idea to have one. 🙂  You can see the discussion about the flywheel diode in the Water droplet blog article. In both curcuits, a 1K resistor should be fine.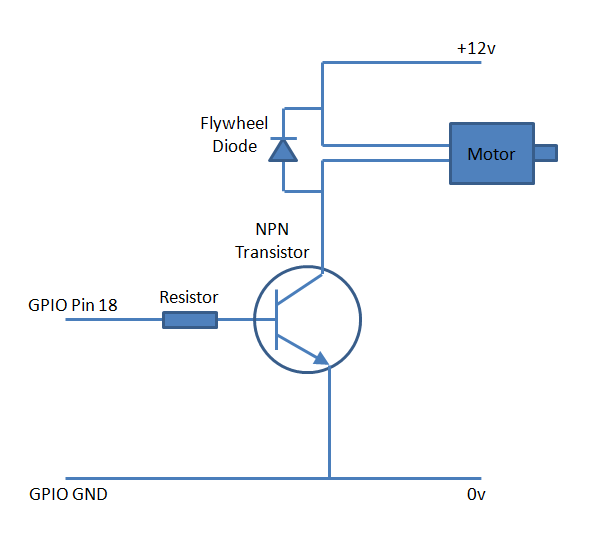 Next, the Shutter Release circuit. This has been tested with a Canon 5D Mark II and Mark III. There are 3 wires in my shutter release cable, usually black, white and red. Black is GND, white is focus and red is shutter release. I've called focus pin 2 and shutter release pin 3, with GND being pin 1. I didn't include a photo of the circuit, as it's such a mess it wouldn't inspire confidence. It works, though! 🙂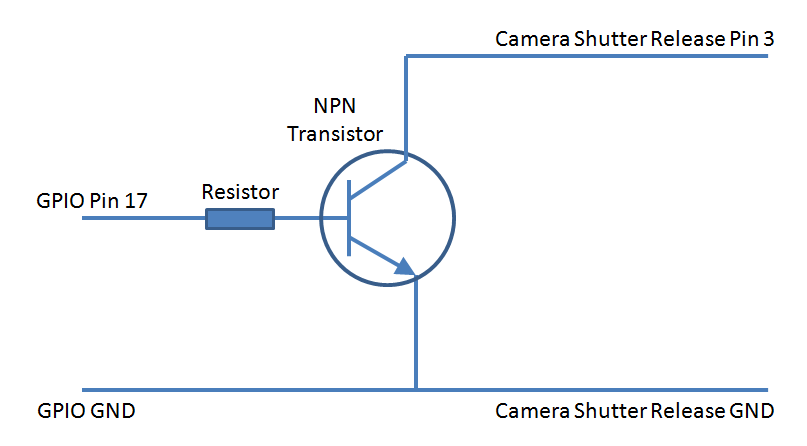 –edit–
Per Magnusson let me know of a blog article he's written while he was developing his own version of the electronics for this project. He's done a very good write-up here – http://axotron.se/blog/electronics-for-the-lapse-pi-motorised-time-lapse-rail/. What's particularly interesting is that he describes the tweaks that are needed to drive Nikon cameras. Thanks, Per! 🙂
–edit–
Or, if you're using a motor controller, here's a handy diagram for you. GPIO pinouts shown are the ones used in the Lapse-Pi touch version of the controller, but you can change the pins to the ones you're using on your Raspberry Pi.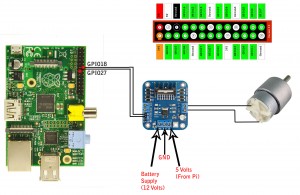 The Code
Here's a small bit of python that should get you going. There's a bunch of variables at the start of the script to define the length of pulse you send to the motor, the settling time for the motor, etc. Experiment with these to get the optimal settings for your particular time lapse.
import wiring
from time import sleep

shutterpin = 17
motorpin = 18

framecount=5
pulse_length=0.1
settling_time=0.5
shutter_length=2
interval_delay=0.2

gpio = wiringpi.GPIO(wiringpi.GPIO.WPI_MODE_GPIO)
gpio.pinMode(shutterpin,gpio.OUTPUT)
gpio.pinMode(motorpin,gpio.OUTPUT)
wiringpi.pinMode(shutterpin,1)
wiringpi.pinMode(motorpin,1)

for i in range(0,framecount):
    gpio.digitalWrite(motorpin,gpio.HIGH)
    sleep(pulse_length)
    gpio.digitalWrite(motorpin,gpio.LOW)
    sleep(settling_time)

    gpio.digitalWrite(shutterpin,gpio.HIGH)
    sleep(shutter_length)
    gpio.digitalWrite(shutterpin,gpio.LOW)
    sleep(interval_delay)
And finally, here's a video of the rig in action. It also includes one of the first time lapses I shot with the rig.
If you want to be kept up-to-date with my hacks, photos, etc, Join me on Facebook or Twitter, links below.
Raspberry Pi is a trademark of the Raspberry Pi Foundation
About the Author:
By day I'm a senior embedded Linux software engineer working with Emutex Ltd, an Embedded Software Solutions company in Limerick Ireland. In my spare time, I take pictures, and play with gadgets and technology.
Twitter: https://twitter.com/climberhunt @climberhunt
Facebook: https://www.facebook.com/davidhuntphotography
Other Related Posts:
Page 1 – The plan and some construction shots and info
Page 2 – More Construction
Page 3 – The Circuits, the Code, plus a video of the rig in action