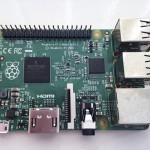 I got myself a new Raspberry Pi 2 Model B this morning. I was intrigued by its quad-core cpu and how it would stack up against the other single board computers that I've benchmarked in the past, which were:
Raspberry Pi Model B+
Beaglebone Black
Intel Edison
Imagination MIPS Creator CI20
A brief outline of the machines under test are as follows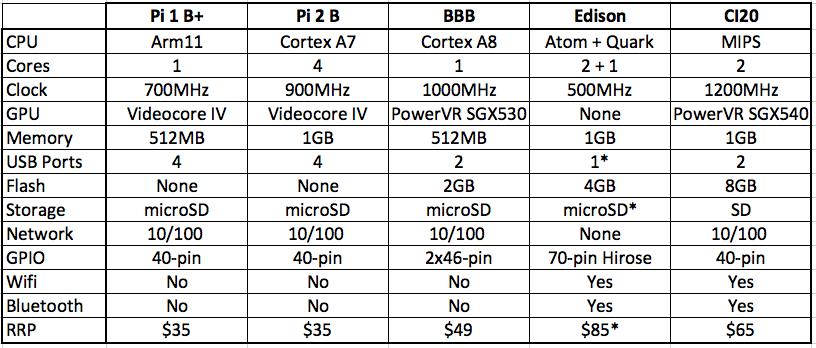 *depends on baseboard, Edison's RRP without any baseboard is $50, but you need some kind of baseboard to use it.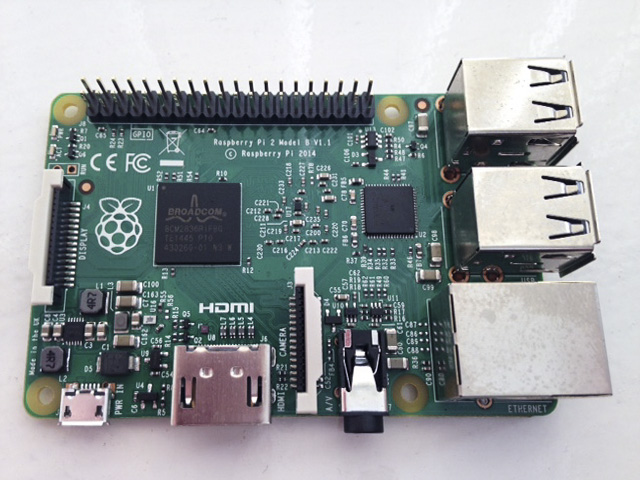 So, down to the benchmarks. They're very basic, just running 4 types of test with sysbench. The output is graphed against the other boards previously tested.
Firstly, the CPU benchmarks which we're probably most interested to see.  I'll run all the tests with 4 threads, as we have 4 cores on the Pi 2.
sysbench --test=cpu --num-threads=4 run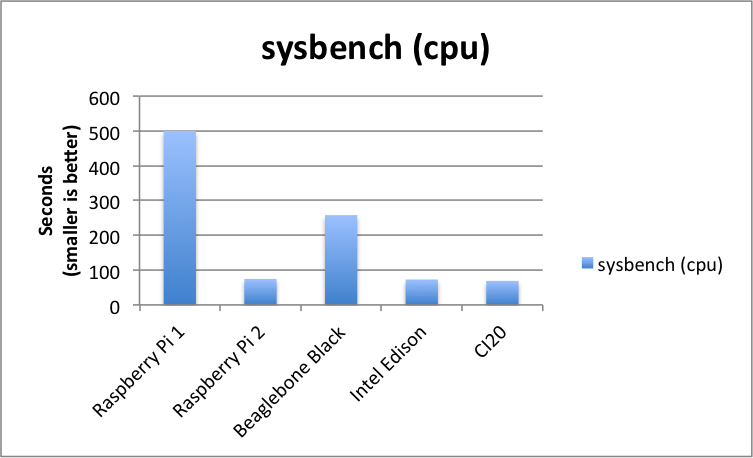 As expected, it's a massive improvement over the original Raspberry Pi, and brings it right up to the best of the other sub-2-watt boards I've tested. Since I do a lot of battery powered projects, it seems to be a sensible option to pick a cut off for the board selection, and I've settled on 2 watts. Sure, there are lots of boards out there that work at higher power draws, but where do you stop, Xeons? 🙂 All the boards in these tests will happily work away at under 2 watts. The Intel Edison is currently the king of those I've tested at about 0.38W when idle.
Next, it's the memory test.
sysbench --test=memory --memory-block-size=1M --memory-total-size=10G --num-threads=4 run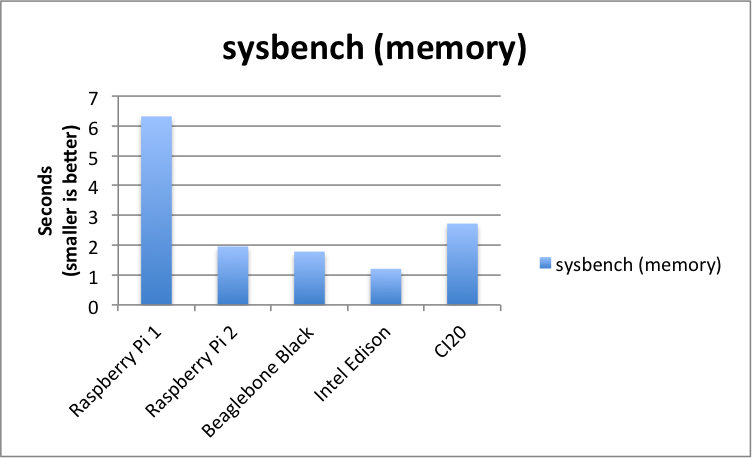 Again, the 4 cores dramatically improves the results of this particular test over the Pi 1. It's also 40% faster than the CI20,  but doesn't quite manage to keep up to the BBB or the Edison.
Next is the Storage. First the writes.
sysbench --test=fileio --file-test-mode=rndwr --file-total-size=16MB --num-threads=4 prepare
sysbench --test=fileio --file-test-mode=rndwr --file-total-size=16MB --max-requests=1000 --num-threads=4 run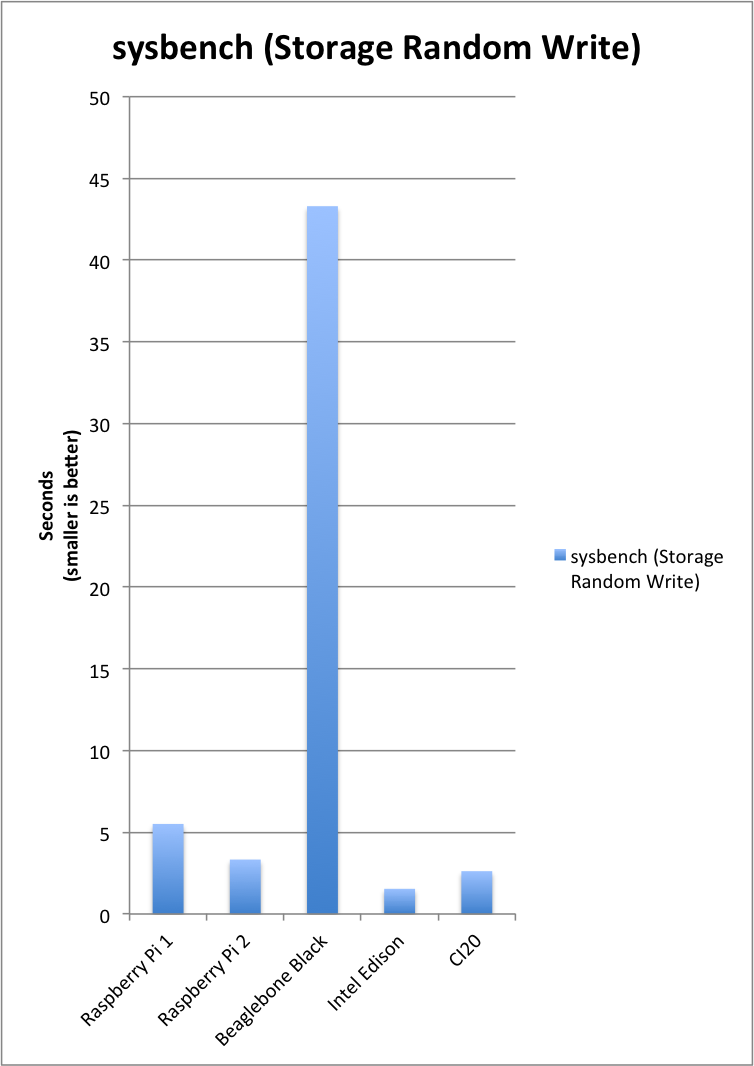 A good performance improvement here. I may have to re-test the Pi 1 with the same speed card as this test, just to be sure of the numbers.
Finally, the storage reads.
sysbench --test=fileio --file-test-mode=rndrd --file-total-size=16MB --max-requests=10000 --num-threads=4 run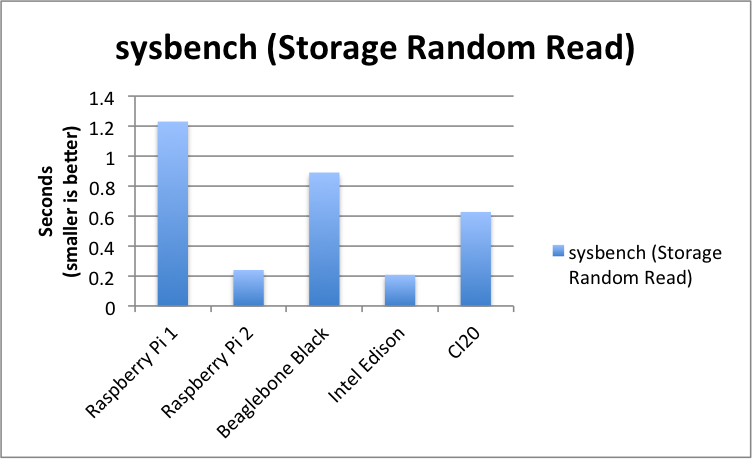 Surprisingly good improvement here. Significantly better than all other boards except the Edison, and even then it's only 20% slower than that.
Using the desktop on the Pi 2 to browse the web is a very pleasant experience. No lag, it keeps up with your internet connection effortlessly. Whilst the previous generation of Raspberry Pi was sluggish as a browsing machine, this new generation has no problems whatsoever. Put it in a nice case beside a monitor/keyboard/mouse, and you've got a really tidy and usable guest/kids/kitchen PC in a really tidy form factor. 🙂
At $35 (plus tax and shipping) it seems really attractive, but you have to remember that you need to add an SD card, a power supply, and maybe a Wifi/Bluetooth dongle to that for your use case. But if you already have those lying around, it's a hard price to beat.
Oh, and if you want to donate a board, I'm happy to test it, as long as it runs at under 2 watts. Drop me an email!
About the Author:
By day I'm a senior embedded Linux software engineer. In my spare time, I take pictures, and play with gadgets and technology.
Twitter: https://twitter.com/climberhunt @climberhunt
Facebook: https://www.facebook.com/davidhuntphotography
Be sure to check out my other DIY articles, and if you like, you can subscribe by entering your email address at the top right of the page. 🙂