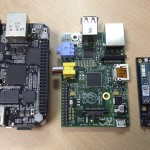 Recently I took delivery of an Intel Edison with a Mini-Breakout Board. I was awestruck by the size of the thing, but it was not until I started using it properly for a couple of projects that I noticed that it seemed a little bit 'snappier' than boards I'd used in the past (Raspberry Pi, Beaglebone Black). So I decided to do a little benchmarking.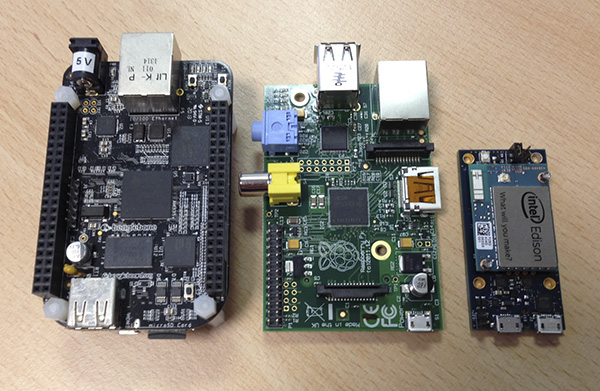 The three boards I benchmarked are
The benchmark was done using 'sysbench' which I compiled from source on the Edison, and on the other two boards I used apt-get to install the currently available version for the distributions on the board.
It's worth mentioning that the benchmarks were run single threaded on the Pi and BBB, and 2 threads were used on the Intel Edison. If a single thread was used in the Edison, the timings roughly doubled for each test. Increasing the threads to 2 on the Pi and BBB made very little difference, maybe slowing them down slightly due to the increased context switches.
The benchmark I was most eager to see was the CPU benchmark, which shows that the Intel Edison is well ahead of the Raspberry Pi, and significantly ahead of the BBB. 500 seconds on the Pi versus 72 for the Edison. So it's no slouch, even for it's size….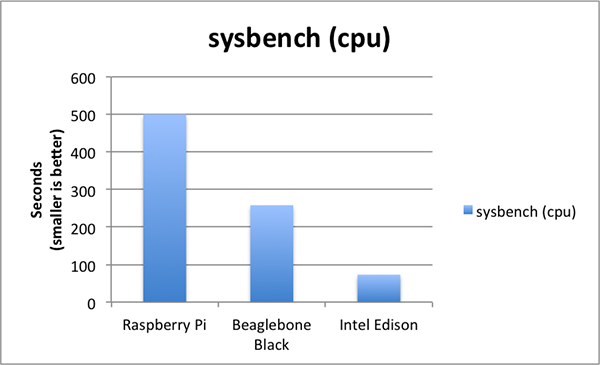 Next test was memory, which showed a more significant difference between the Pi and the Edison, but the BBB managed to close the margin.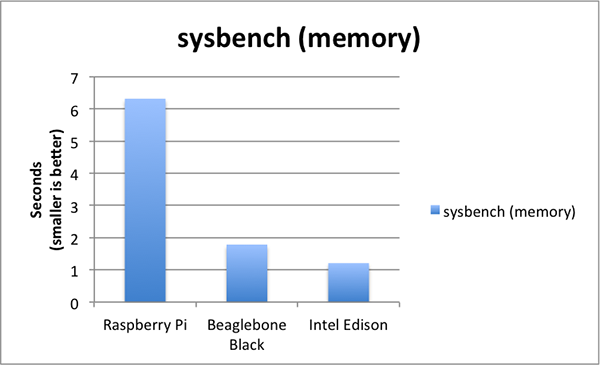 However, I suspect there was an incorrect setup in the BBB for the random write test, as it was lagging WAAAY behind the Pi and the Edison. The Edison was still about 5 times faster than the Pi.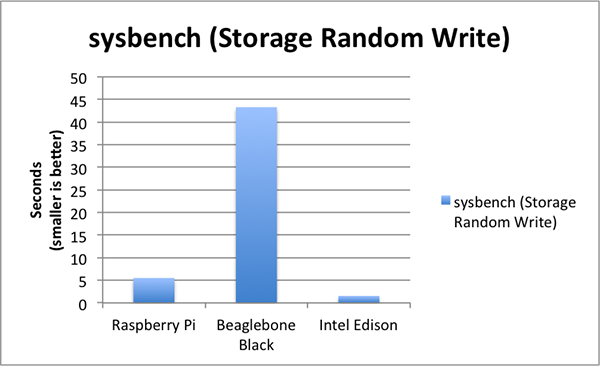 And finally, the random read from storage. Back to the typical charts, Pi, BBB, Edison in that order. The Edison still trounces the Pi and the BBB.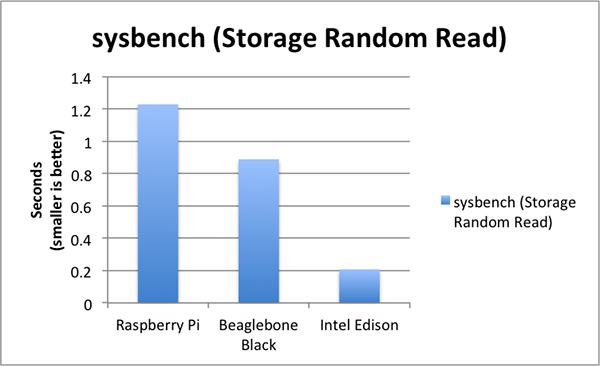 So, if you take the results of the Edison being 5 times the speed of a Raspberry Pi in most tests, and it being $75 versus about $35 for a Pi, the Edison is excellent value for money.
All the other pros and cons for each platform are beyond the scope of this blog article, but when you look at the benchmarks here, the Edison is way ahead. Even taking the price into account ($75 for Edison module with a mini-breakout board) it still offers more bang for buck than the other platforms.  But the Pi still offers excellent value for what you get, so it all depends on what you're happy with! I plan on using all of them in future projects! 🙂
Note: All images are (C) 2014 David Hunt – All rights reserved. Not be be used without permission.